PTTC: Developing a Full E-Commerce Business Seminar: Expanding your Business through E-Commerce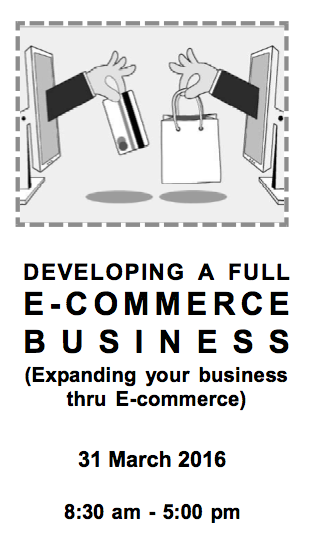 The Department of Trade and Industry & Philippine Trade Training Center is holding this special training project for SMEs who needs a website with payment facility.
This by invitation only. Only 35 companies will be accepted.
Each company will develop a webpage with payment facility. Companies with existing webpage can add the e-payment facility.
AGENDA
The session will cover the following:
8:30 AM: DTI Welcome Message
E-commerce business model

8:45 to 9:00 AM: Introduction (Janette Toral, DigitalFilipino)
9:00 to 9:20 AM: Selling Online through Lazada (B2B) – Bernadette Moldez (Senior Sales Manager, Lazada Philippines)
9:30 to 10:00 AM: Full-Cycle E-Commerce & Building Trust Online – SME Negosyante consortium: Mark Joseph Panganiban – Head of Business Development – Air21 Global / John Arden Ros – Business Development Officer – Dun and Bradstreet Philippines / Jeff Francisco of Air21

WORKING BREAK
Accepting Electronic Payments

10:15 to 10:30 AM: HelloPay (Chikky Reyes, Head of Commercial Business)
10:30 to 10:45 AM: PayMaya / Takatack (Patrick Zulueta, Product Marketing Lead for PayMaya Business)
10:45 to 11:00 AM: Globe G-Xchange – Globe GCash (Nikole Alicer, Business Development, Mynt)

Preparation for Break-out / LUNCH
12:00 PM to 4:00 PM: Site Development / Vendor Accreditation / E-Payment Activation
4:00 to 4:20 PM E-Marketing Checklist (Janette Toral)
4:30 PM DTI Closing Remarks
4:45 PM: Certificate Awarding
Prerequisites:
Each company should have a team member with working knowledge of computers and Facebook. This person should be able to assist the SME in doing the hand-on sign-up and activation process.
Participants should bring:
Photos of product, specifications, company profile and other data to be used for the webpage
Laptop with wifi or own data access per company.
APPLICATION / REGISTRATION
Participants should register and submit photocopy of the following on or before March 29, 2016:
Tax Registration
Mayor's Permit
DTI or SEC Registration (with GIS)
Sales Invoice / Official Receipt
Event details:
Date: March 31, 2016
Time: 8:30 am – 5:00 pm
Venue : Philippine Trade Training Center Room D, Gil Puyat Avenue, corner Roxas Boulevard, Pasay City.
For inquiries and reservations, please contact:
Ms. Eva Ancheta/Mr. Joseph Argente
Business Management Training Services Division
Tel. Nos.: 831.9988 • Fax Nos.: 831.9988; 834.1341
Email: evagancheta@gmail.com josephargente@gmail.com training.pttc@gmail.com for submission of documents on or before March 29, 2016. You need to be approved in order to attend the training.
Web Address:
MSME E-Commerce Activation
Approved participants are requested to register at the following prior to training attendance to fast-track the approval process: