PCCI-Tarlac: Asenso Sa Negosyo 6: Helping MSMEs Do Business Online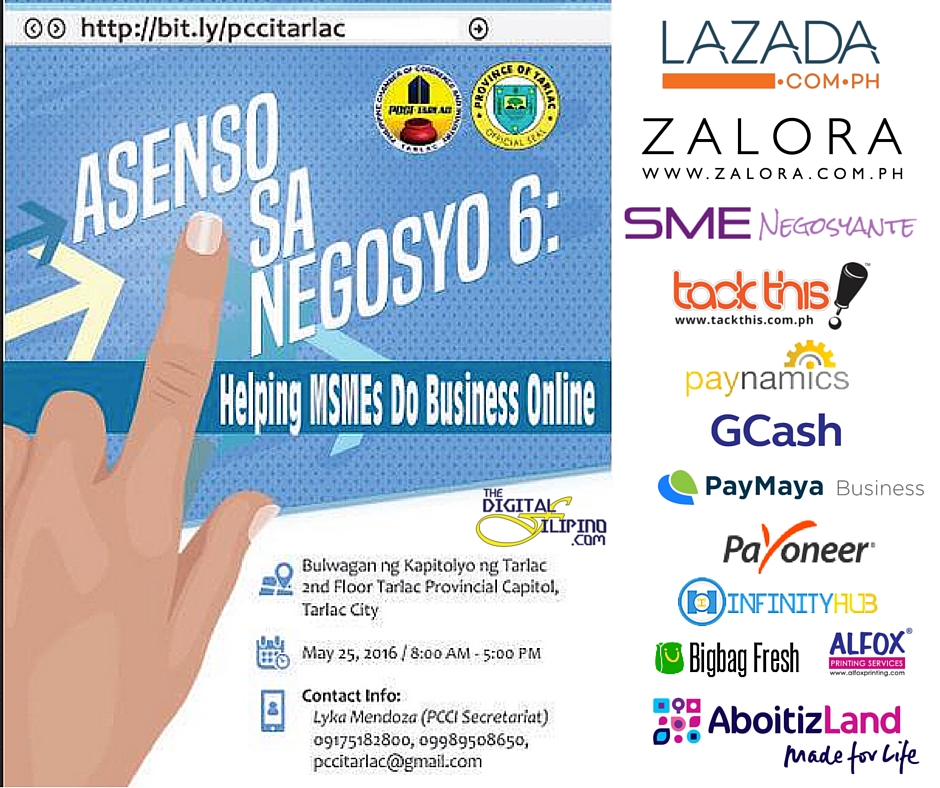 The Philippine Chamber of Commerce and Industry – Tarlac and Province of Tarlac will be holding their annual event "Asenso sa Negosyo 6" with the theme "Helping MSMEs do E-Commerce Online".
The activity is intended to help MSMEs who need assistance in creating an online presence, promote their business using e-marketing, and accept e-payments.
This is by invitation only. Around 100 companies will be accepted.

Each company will develop an online presence with payment facility. Companies with existing website will gain access to additional channels where they can promote their products and services online.
AGENDA
The session will cover the following:
8:30 AM: Welcome Message
9:00 AM Create your Online E-Commerce Presence
WORKING BREAK
10:00 AM Accepting Electronic Payments (Mylene Magleo, Paynamics / Marketa)
11:00 AM E-Commerce Supply Chain Logistics (Mark Joseph Panganiban of SMENegosyante /
11:20 Case study sharing (JM Mariano of BigBag Fresh and Abby Lim of Alfox Printing)
Q&A / BREAK
HANDS-ON: Site Development / Vendor Accreditation / E-Payment Activation
3:00 PM E-Marketing Checklist (Sherlane Fortunado, E-Commerce / Digital Marketing Virtual Assistant)
4:00 PM PCCI-TARLAC Closing Remarks
Certificate Awarding / Group Photo
Our big thanks as well to AboitizLand for supporting the event.
Prerequisites:
Each company should have a team member with working knowledge of computers and Facebook. This person should be able to assist the SME in doing the hands-on sign-up and activation process.
Participants should bring:
Photos of product, specifications, company profile and other data to be used for the website
Laptop with wifi or own data access per company.
APPLICATION / REGISTRATION
Participants should register and submit photocopy of the following on or before May 20, 2016:
Tax Registration
Mayor's Permit
DTI or SEC Registration (with GIS)
Sales Invoice / Official Receipt
Event details:
Date: May 25,, 2016
Time: 8:30 am – 5:00 pm
Venue : Bulwagan ng Kapitolyo ng Tarlac, Tarlac City.
Registration
For inquiries and reservations, please fill-up the form below. You can also contact: Lyka Mendoza, PCCI-Tarlac, Tel. Nos.: 0917-518-2800, 0998-9508650
Email: pccitarlac@gmail.com for submission of documents on or before May 20, 2016. You need to be approved in order to attend the training.
MSME E-Commerce Activation
Approved participants are requested to register at the following prior to training attendance to fast-track the approval process: