October 22: SEO, Blog, Social Media Affiliates / Lead Generators Meet-Up
A growing number of companies today have looked into lead generation and affiliate marketing as a strategy to meet digital marketing objectives. Individuals who took affiliate marketing in the Philippines seriously earn up to sixty thousand pesos (P60,000) per month.
Some SEO, digital marketers, bloggers, social media specialists have tried joining affiliate marketing and lead generation programs to see if it can be viable avenue to generate significant income online. A significant few do well while others give up too soon.
We are organizing a SEO, blog, social media affiliates, lead generators meet-up this October 22 at Best Western Plus Antel Hotel to address this topic and launch a competition to increase knowledge participation, and growth in the affiliate marketing and lead generation segment. This is hosted by Lazada Philippines.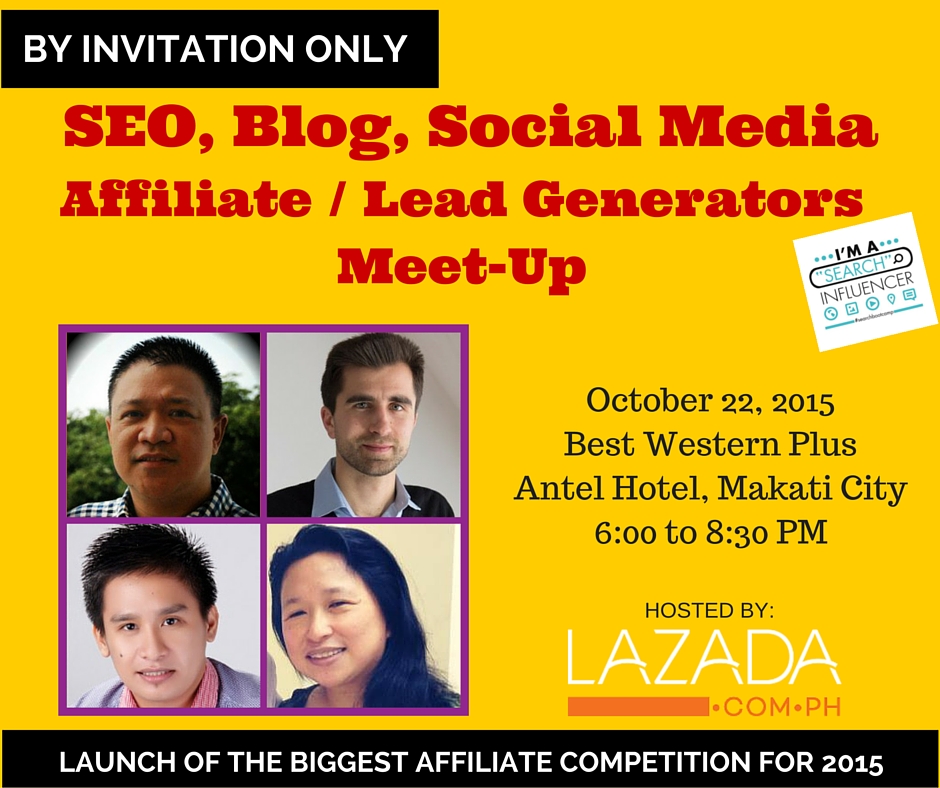 AGENDA
6 PM to 6:30 PM Registration
6:30 pm to 7:00 PM Introductions
7:00 to 7:30 Lessons Learned and Best Practices on How to Make Money through Affiliate Marketing & Lead Generation
(Speakers: Mannix Pabalan of Hashtag Digital and Tof Salcedo)
We invited experienced affiliate marketers to share their personal experience. Mannix is currently running affiliate marketing projects in U.S. and Canada. Tof is experienced on lead generation projects for credit cards and loans. He runs websites with passive income via affiliate sales.
These hard core affiliate marketers will share their experience and give strategic insights for those wanting to roll their sleeves and take the challenge.
7:30 to 7:45 Make Money with Lazada Affiliate Program
(Speaker: Florian Holm, Chief Marketing Officer, Lazada Philippines)
7:45 to 8:00 Launch of Lazada Affiliate Online Revolution Competition
(Speaker: Janette Toral)
I am glad we are able to convince our sponsor to organize a competition where its existing Lazada affiliates (and those who will be joining) will be able to take part in a 2 months competition and put in a huge cup prize to top performers. The biggest we have seen so far locally.
This will be presented in full on October 22, 2015 during the meet-up event.
I am certain that if this will go well, it will create a significant income opportunity to its growing affiliate community at large. And hope more local sites will carry out programs like these as well.
To join this event, kindly fill-up the form below. Note that you must be intentional in joining the competition to attend this event.