October 21: Web Project Planning 101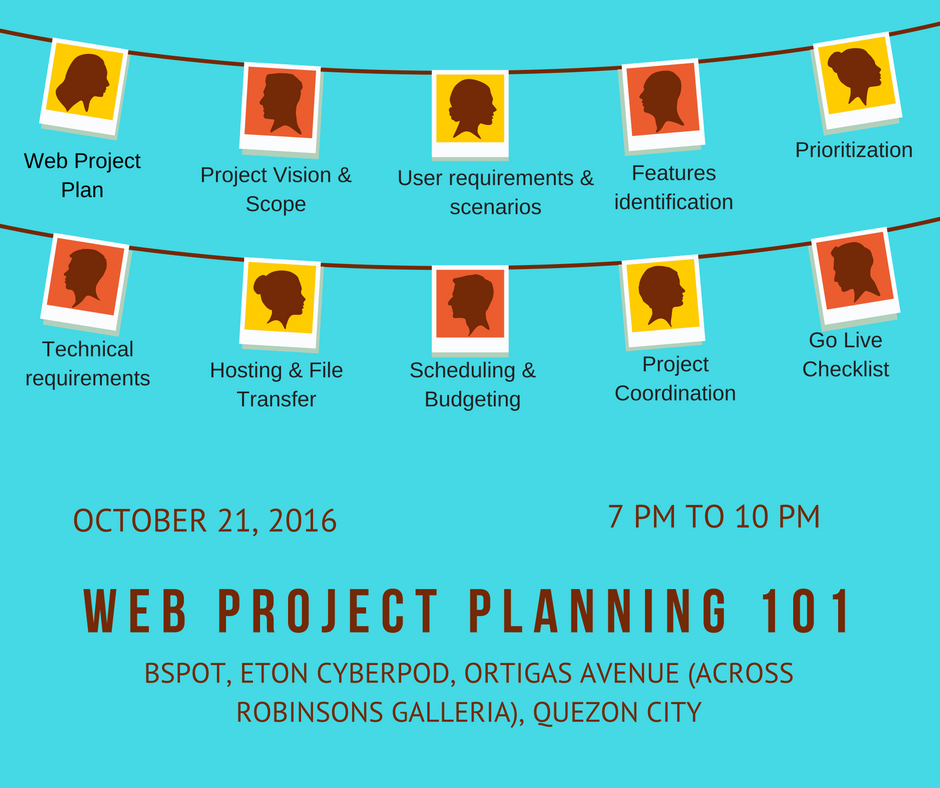 Online projects, especially e-commerce, are very dynamic as adjustments are made depending on how audience respond to your offerings and interact on your site. Often referred as a state in perpetual beta. Recognizing this early and having a process in place can help manage features, budget, timeline, expectations reasonably.
This October 21, we are hosting a Web Project Planning 101 learning session at BSpot, Eton Cyberpod Ortigas Avenue, Quezon City (across Robinson's Galleria) from 7 PM to 10 PM. This session aims to help you know identifying your web project features, prioritization, scheduling, and monitoring your project progress.
Target participants:
Developers, digital marketing professionals, virtual assistants, individuals who want to earn extra online by assisting clients in setting up and manage their web project.
Entrepreneurs who need guidance in managing their web, e-commerce, online project.
AGENDA
Topics to be tackled are as follows: (1 hour lecture and demo, remaining time for hands-on)
Web Project Plan
Project Vision & Scope
User requirements & scenarios
Features identification
Prioritization
Technical requirements
Hosting & File Transfer
Scheduling & Budgeting
Project Coordination
Go Live Checklist
Trainer Profile
Speaker for this 3-hour learning session is Janette Toral. She actively works with micro, small, and medium sized enterprises (MSMEs) in building their e-commerce marketplace presence online. She is the lead trainer for the Certified E-Commerce Specialist, Entrepreneur, Professional Program. She is a Certified Scrum Master and Scrum Product Owner.
FEE:
This learning session is free. However, participants are requested to give five hundred pesos (P500) contribution to cover the cost of venue, food, and materials at the gathering.
SHOULD YOU BE INTERESTED IN ATTENDING THIS MEET-UP EVENT, KINDLY FILL UP THE FORM BELOW. YOU CAN ALSO CONTACT JANETTE TORAL BY SENDING A PRIVATE MESSAGE or at 0917-4490011.