October 18: Professional Blogging Summit #dpop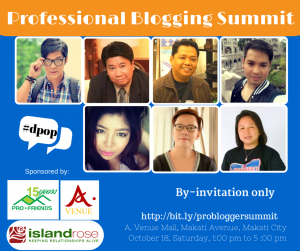 With so many wanting to explore freelance, employment, and business opportunities, blogging is considered as an effective tool in building your identity and spread the word with what you have to offer.
In partnership with #DPOP, This half-day event aims to gather professional bloggers and share their experiences in offering products or services online. Managing their online identity and work well with clients and suppliers.
This FREE event will be held at A. Venue Mall, Makati Avenue, Makati City, Saturday, from 1 pm to 5 pm.
Thank you A. Venue Mall, Island Rose, SaladBox, and Profriends (Property Company of Friends) for supporting this activity.
Target audience
In this 1-day by-invitation-only conference, we are inviting bloggers, content creators, social media specialists, community managers, marketing specialists, entrepreneurs to learn and exchange insights on blogging and make it sustainable as a profession.
October 18 AGENDA
(A. Venue Mall, Makati Avenue, Makati City near Best Western Plus Antel Hotel)
12 noon to 1 pm – REGISTRATION
Panelists will share insights on how they started their blog and social media network, recruitment, and relationship management. Handling blogger politics and intrigues.
2:00 to 2:40 Getting Clients, Professional Blogger Ethics, and Maintaining Goodwill Relationships
Speaker: Jeoff Solas and Joselito "Toots" Tolentino
Panelists will share their experience
3:00 to 3:30 BREAK
3:45 to 4:30 From Blogger to Blog Celebrity: The Journey
Speaker: Seph Cham and more to be added.
Celebrity bloggers how they transitioned from blogger to brand endorsers and blog celebrity.
4:45 to 5:30 From Bloggers to E-Commerce / Social Media Entrepreneurs
Speaker: Sai Sayson Montes, Janette Toral and more to be added.
Featuring hobbyists who sell through their blog, Facebook, Instagram, and other social media channels. They will share what works and not.
REGISTRATION
We can accept up to 100 bloggers for this event. To join, kindly fill-up the form. We will send you a private message through social media if you are accepted.
If accepted, a participant agrees to the following:
Help spread the word about the upcoming event through blogs, email, and social media.
Blog about lessons learned after the event (with mention of sponsors) on or before October 25.
Participants who do not want the above can opt to pay P500 for the event.