July 12: SEO Lead Generation Conference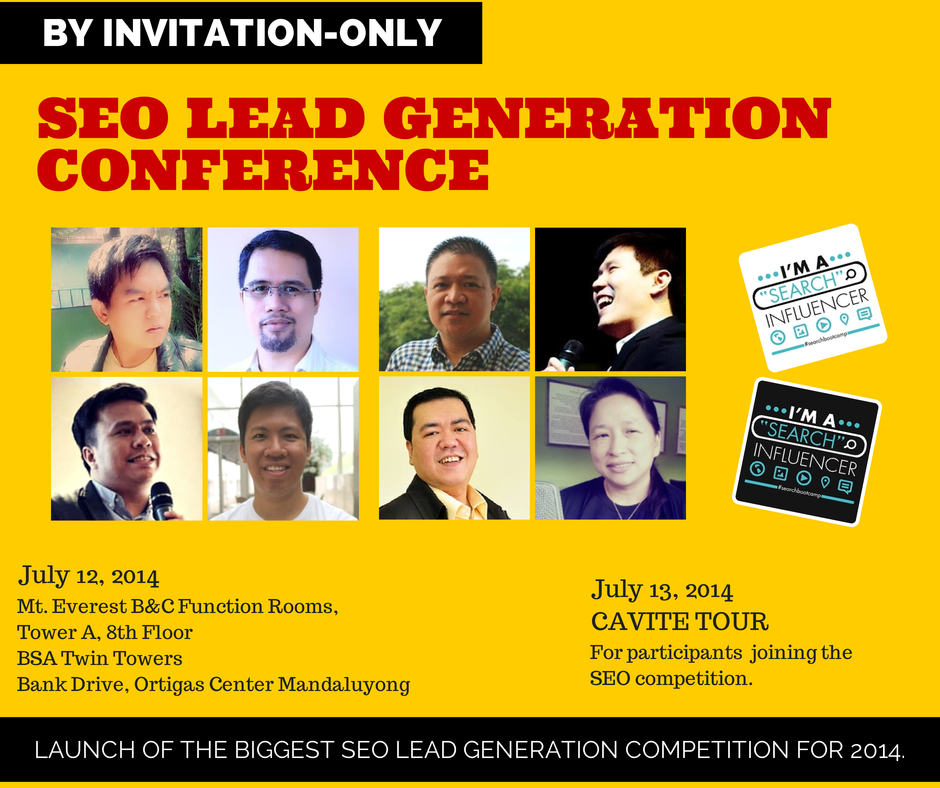 Ranking in search engine results have become more competitive and challenging with the changing rules and algorithms. The techniques used in ranking today maybe considered as abusive tomorrow and result to penalties or disappearance in search engine results.
With businesses becoming savvier and demanding for returns on digital marketing investments, search engine marketing specialists are faced with the pressure on not only just ranking in results but also in converting visitors to leads and customers.
TARGET AUDIENCE
In this 1-day by-invitation-only conference, we are inviting SEO practitioners, content creators, social media specialists, bloggers, e-mail marketing specialists, and community managers to learn and exchange insights on SEO and lead generation practices.
SEO LEAD GENERATION COMPETITION
With my personal experience in joining search engine ranking competitions in the past and benefited greatly from the experience gained, I am glad we are able to convince our sponsor to organize an SEO lead generation competition and put in a huge cup prize to top performers. This will be presented in full on July 12. I am certain that if this will go well, it will pave the way to an SEO lead generation income segment to the community at large. For those who will be invited and shall attend, here's what to expect:
July 12 AGENDA
(Venue: 8th Floor, Tower, BSA Twin Towers, Bank Drive, Ortigas Center, Mandaluyong City) 8:00 – 9:00 REGISTRATION
9:00 – 9:45 SEO, Web Design, User Experience, and Funnel Optimization for Lead Generation Speaker: Mannix Pabalan, Founder, Hashtag Digital
You can have the best content, ads, and social media campaigns. But with poor web design, unfriendly user interface, and confusing sales funnel process, you will have difficulty attaining targets.
Hashtag Digital Inc founder Mannix Pabalan will share his experience on SEO, web design, user interface, and sales funnel optimization that converts to leads and reach targets.
9:45 – 10:30 Buyer Persona Creation for Lead Generation Speaker: Fitz Gerard Villafuerte, Serial Entrepreneur
The challenge with SEO and Social Media is that you can get carried away with all the tools and functionalities available – use that to optimize your pages. We oftentimes forget that is all about people – not technology.
Serial entrepreneur Fitz Villafuerte (Ready To Be Rich) will share the importance of identifying and focusing on "the buyer needs and concerns". Provide answers and solutions that will result to targeted leads.
10:30 to 10:45 BREAK
10:45 to 11:30 SEO and Crafting Your Unique Selling Proposition for Lead Generation Speaker: Mark Acsay, WebbyThoughts.com
When you are offering a product or service that has a lot of competition, the last thing you want is to be seen as a commodity that can be easily replaced.
Mark Acsay (Webby Thoughts) believes that it is important for entrepreneurs to craft their unique selling proposition and use that to stand out, impart that difference online.
11:30 to 12:15 Building and Sustaining a Lead Generation Community Speaker: Genesis Reonico, Online Jobs University
Putting up an affiliate network to drive referral sales can be a challenge as sustaining requires it to be a profitable venture for members joining it. For high value items and services, it will require more than just an affiliate program to make it work.
Online Jobs Lifestyle – Coach Genesis will share his experience and challenges, as a virtual staff and online jobs coach, in dealing with affiliate networks. Use the lessons learned to build and sustain lead generation networks.
12:15 to 1:00 LUNCH
1:00 to 1:45 SEO LEAD GENERATION COMPETITION ANNOUNCEMENT
1:45 to 2:30 SEO and Content Marketing for Lead Generation Speaker: Carlo Angelo P. Gonzales, Digital Marketing Specialist
With the right content, relevant to the target audience, and done on a sustained basis can pave way for its creator to attain "influencer" status. Be able to attract leads and clients without being compared to those who position themselves as competition.
Carlo Angelo Gonzales – Social Media Marketing Shiznit puts great importance to the art of storytelling. The need to be sensitive to the target audience and connect to them through great content stories that matter.
2:30 to 3:15 SEO and E-Mail Marketing for Lead Generation Speaker: Sean Patrick Si, SEO-Hacker
Search and Social Media can bring lead inquiries to you as their curiosity or interest is sparked. However, very few are able to sustain the interest as the number of options grow – distracting your target audience.
Sean Patrick Si (SEO Hacker) believes it is important for an effective Internet marketer to build and maintain a high quality list pampered with useful content that can aid the prospect in making a buying decision when the time comes.
3:15 to 4:00 SEO and Social Media Marketing for Lead Generation Speaker: Paul Agabin, Essays.ph
Social media is a popular marketing channel. Not everyone though is able to utilize it effectively for lead generation. In this session, Paul Agabin will share do's and don'ts on using SEO and Social Media for Lead Generation.
4:00 to 4:45 SEO and Lead Generation Performance Metrics Speaker: Janette Toral, E-Commerce Advocate
JULY 13 TOUR (OPTIONAL)
(Meet-up venue and tour agenda – to be announced) Those joining the SEO Lead Generation will be invited to join a whole day Cavite tour that will include visit of tourist spots and sponsor facilities to help participants get acquainted and use the activity for content creation. Parties who would like to be considered in receiving an invitation to this activity are requested to fill out the form below: