January 26: WordPress for E-Commerce 101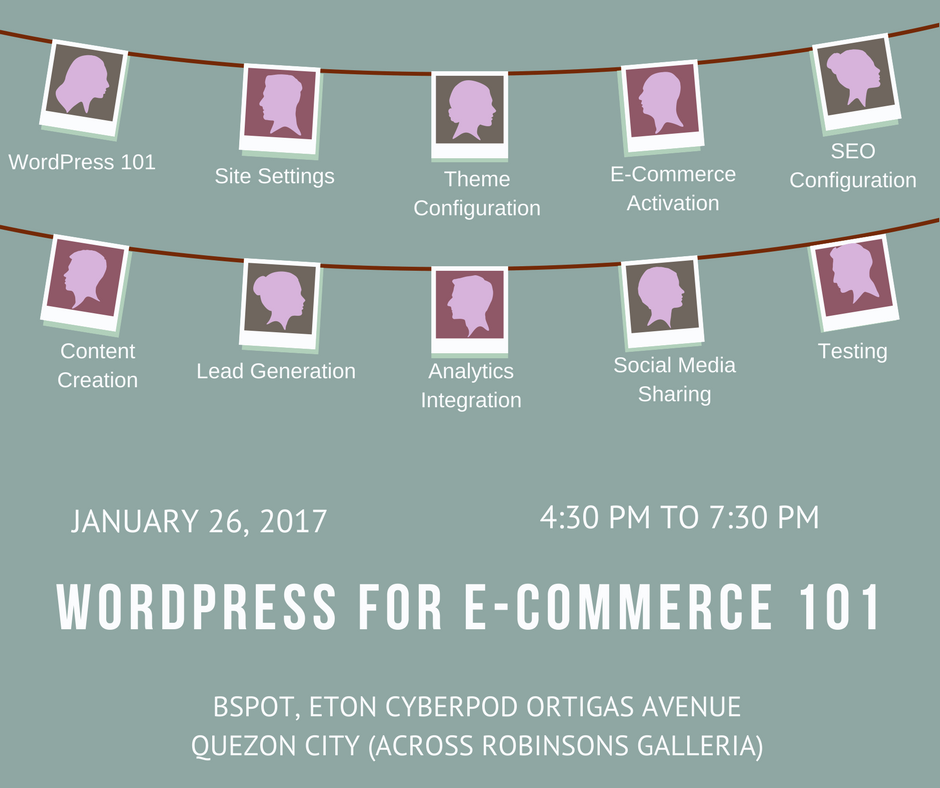 For MSMEs, creating an online presence is necessary to communicate who you are, your brand, what you stand for, and your various offerings. WordPress is one of the many content management platforms used for this purpose. In addition, various plugins are available to make the site usable for e-commerce too.
This January 26, we are hosting a WordPress for E-Commerce 101 learning session at BSpot, Eton Cyberpod Ortigas Avenue, Quezon City (across Robinson's Galleria) from 4:30 PM to 7:30 PM. This session aims to help you in taking the necessary steps to use WordPress as a platform for your e-commerce website.
Target participants:
Advocates, content creators, startup entrepreneurs who wants to build a website using WordPress.
Virtual assistants, social media marketers, digital marketing specialist who wants to offer WordPress site development as a service.
AGENDA
Topics to be tackled are as follows: (lecture / hands-on)
WordPress 101
Site Settings
Theme Configuration
E-Commerce Activation
SEO Configuration
Content Creation
Lead Generation Forms
Analytics Integration
Social Media Sharing
Testing
Trainer Profile
Speaker for this 3-hour learning session is Janette Toral. She is the lead trainer for the Certified Blog and Social Media Entrepreneur Program and a Fascinate Certified Advisor (teaching  How to Fascinate®).
FEE:
This learning session is free. However, participants are requested to give five hundred pesos (P500) contribution to cover the cost of venue, food, and materials at the gathering.
SHOULD YOU BE INTERESTED IN ATTENDING THIS MEET-UP EVENT, KINDLY FILL UP THE FORM BELOW. YOU CAN ALSO CONTACT JANETTE TORAL BY SENDING A PRIVATE MESSAGE or at 0917-4490011.