Feature request: Cebu Pacific needs to check double booking
As the Certified E-Commerce Specialist, Entrepreneur, Professional Program kicks-off its 1-year program, one of my priorities is to purchase at least 22 airline tickets for round trip Manila-Cebu-Manila and Manila-Davao-Manila.
Last night, upon arrival past midnight from Davao, I went online to book my September flights. Afterwards, I checked the list of bookings made and realized that I was able to purchase the same 3 days ago (June 23).  It slipped my mind as I was thinking about the Geeks on a Beach flight booking made for August.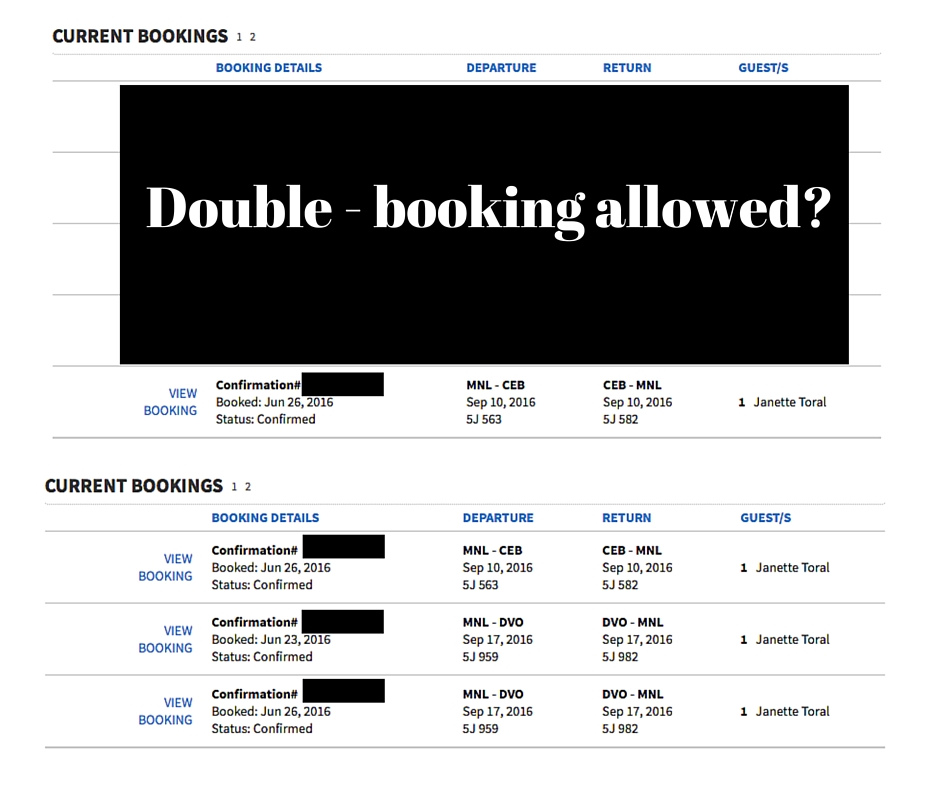 I immediately called Customer Service and cited the double booking I made. Requesting for the flight instead to be credited for October. Alas, I was told that I need pay at least P1,500 per sector and fare difference. (I am not sure if the ticket price is less, will they deduct the fare difference if you paid higher earlier.) This means I have to pay at least six thousand pesos (P6,000) if I will change the Manila-Cebu-Manila and Manila-Davao-Manila double booking.
Ticket cancellation is not an option either as they are on promotional fares. This means Cebu Pacific allowed me to purchase a ticket that I can never use (can't transfer or cancel either).
Cebu Pacific does not detect double booking?
When booking via Cebu Pacific, if the time difference between your flights is too close, you often get a warning about it. This is helpful especially when you encounter time confusion.

Then it came to my mind, how come the system did not checked if I had a booking on the same date and time when I was logged on to my account. Aren't they supposed to check for duplicate or double booking?
I hope Cebu Pacific makes an effort in improving their system. That will be of big help to passengers like me who just wants to get a task done and may forget some details in the process.
Otherwise, the benefits of booking in advance is defeated when passengers wants to correct a double booking by being required to pay fees whose value is already good enough for a next flight.
I also hope that the Passenger Bill of Rights be updated to address double-booking issues like this.
(UPDATE: June 29, 2016 – This issue is resolved.)
International Practice on Double Booking
International airlines prohibits double booking on flights such as Lufthansa, Bangkok Air, United Airlines, Turkish Airlines, among others. A website, functioning as a travel sales provider or agent, also carries the same responsibility.
P.S. I am not supposed to make this blog post. But unfortunately, the reply of Cebu Pacific Air official social media accounts lacks all the elements of sincerity and empathy.