Ensogo Philippines Shutdown: Remedy for Buyers and Sellers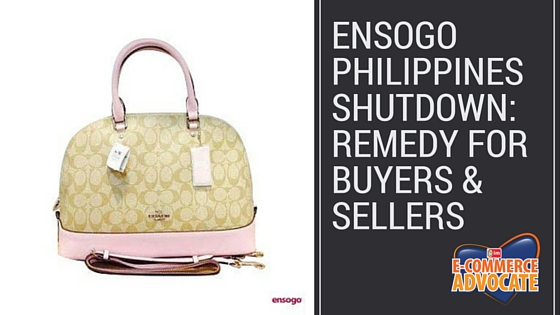 When news came out about Ensogo shutting down its ASEAN presence, I am sad with the news especially when you saw how aggressive Ensogo Philippines was in coming up with new product categories and friendly onboarding process  for merchants to join.
Then another news came out about suppliers complaining of not getting paid. An EnsogoPH Facebook Page can also be found where its administrators are organizing themselves to collect amounts unpaid and refund purchases made where items were undelivered.
Call from a friend
Last night, I got a call from a friend, Jorge, in Butuan City who was a regular Ensogo buyer. She complained about not getting an item (Coach Signature Sierra Satchel Dome Bag Pink) she ordered for more than a month now.
(Jorge saw my name shared in a group that can be reached out to for problems with Ensogo. When I was helping out for the Pinoy Cyber Sale last year, I extended a helping hand in reaching out to marketplaces when buyers were following up on their orders. December 2015 was a challenging month as most logistic players were not able to deliver on schedule.)
As the shopping site of Ensogo is already down, including their social media presence, there is not much that buyers and suppliers can do.
However, here are some tips that may help.
Buyers – Contact your Credit Card Issuer
The best resolution for buyers is to contact their credit card company. Attach unanswered correspondence and request for a refund.
Remember that you have 6 months to file a complaint against any purchase you have made through your credit card.
Now in the case of Jorge, she used a debit card to process her transaction. She can first try her bank to see if something can be done about it. Otherwise, proper complaint can be lodge through the Department of Trade and Industry by buyers.
Each seller has to do this on their own. Even if the Ensogo office has closed already, its incorporation as a company is still active.
Their SEC papers will serve as reference to whom the summons can be sent. Proper complaints can be filed to the Small Claims Court for sellers.
Moving forward for Sellers
I think a challenge for any seller when doing business online with marketplaces is the turnaround time for payments. Or in this case, closure of business. Some considerations to make when doing business with a marketplace includes:
1. Setting a Sales Limit
If you are new in a marketplace, set a limit as to how much sales you want to receive where you are comfortable in taking some risk as well.
2. Put your Account on Hold when Receivables reached the limit
Cash flow is critical. Especially to an MSME who has limited funds. This amount needs to be realistic as turnaround time for payment can take up to 7 to 21 days especially for deliveries outside of Metro Manila and where cash on delivery was observed as an option.
The transaction relationship gets complicated when deliveries are not made due to unavailability of buyer to receive (or pay in case of COD), replacement request, complaints resulting to cancellation of purchase.
Be E-Commerce Ready
But as long as you are aware and prepared for the above situations, the sales potentials that can be earned online is worth it. More so, if you have a great product and marketed properly.
E-Commerce has its own share of challenges. It is not any different when selling your product through consignment in popular department stores or getting your own space and stock up your products.