Call for speakers: E-Commerce Entrepreneurs Summit Manila 2015
The 7th E-Commerce Entrepreneurs Summit is set to take place on August 29 at Best Western PLUS Antel Hotel, Makati Avenue, Makati City. It is an intensive 1-day educational event on e-commerce strategies. It is also meant to celebrate the 16th year of DigitalFilipino.com (blog started in September 16, 1999).
Our theme for this 7th edition is "E-Commerce for Economic Growth". We are looking for speakers, including those in the start-up field, who can share insights or have projects on any of the following topics: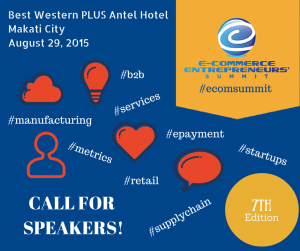 Business-to-Business E-Commerce projects in Manufacturing, Retail, and Services sectors
Building a Trustworthy E-Commerce Ecosystem (Seals, Consumer Protection, Anti-Cybercrime, Data Privacy, E-Wallet, Simplified Tax System)
Securing E-Commerce Transactions (Fraud Screening, PKI, Digital Certificates, Traffic Monitoring)
Boosting the Philippine Internet Infrastructure
Cross-Border E-Commerce: Logistics, Import / Export Rules, E-Payments, Escrow, and Trade Regulations
E-Commerce Marketing Strategies (Lead Generation, Retargeting, Remarketing)
State of E-Commerce in the Philippines 2015
E-Commerce Buyer and Seller Communities
E-Learning as a Mainstream Education Platform
Parties interested are requested to fill up the form below. You can also message Janette Toral on Facebook or LinkedIN for further inquiries.
Deadline for topic submissions will be on June 15, 2015.
This event will also serve as a showcase for e-commerce projects being developed by students in the Certified E-Commerce Specialist, Entrepreneur, and Professional Program (module 8). They will also go to Singapore this September 9 to 13 for e-commerce industry exposure and will use this event to raise resources needed.